Most brands worldwide cash in on business process outsourcing (BPO) to keep up with their operations. Since some tasks can take a toll on their profits and overall productivity, they find low-cost suppliers to do similar projects without spending too much. They get the most benefits when they purchase offshore, where BPO firms charge cheap prices due to lower cost of living. As a result, the BPO industry in the Philippines, along with its rivals, continues to stride along with the growth of these global brands.
In this article, we gathered the latest global BPO stats to show you the rewards these BPO companies in the Philippines can bring to your business.
BPO Industry in the Philippines Provide Top Business Needs
How much have businesses spent on outsourced services since the last quarter of 2016?
Global auditing firm, KPMG, published this report on the Information Technology-BPO data for January to March of 2017. They studied the said quarter's results and compared them with the findings from the previous quarter (October to December 2016) and from the 2016 annual report.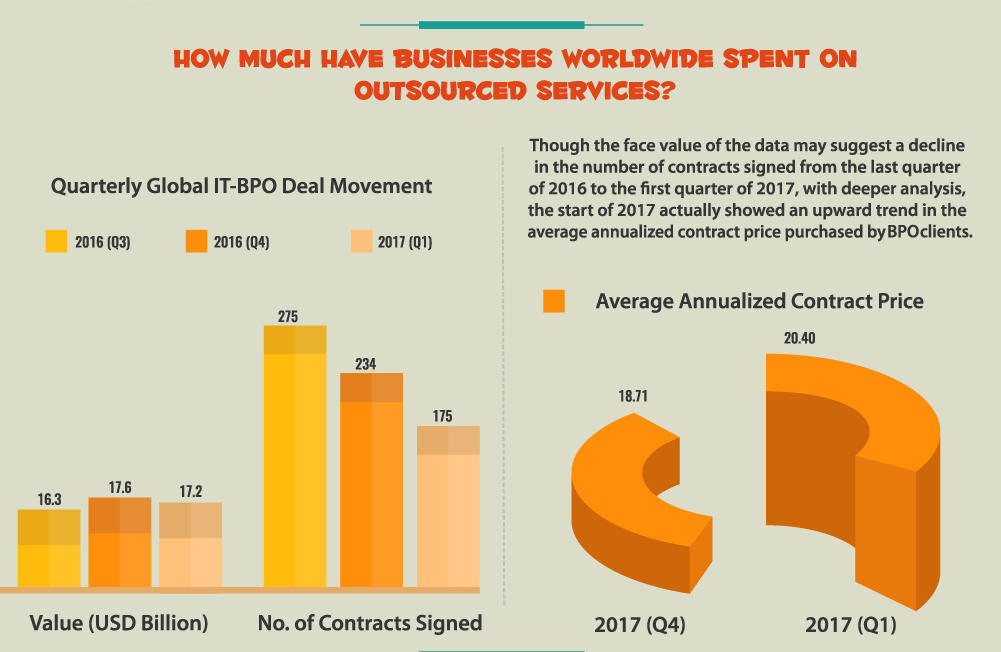 The Americas (combined North American and South American regions) is still the largest consumers of outsourced services in terms of product value. The Europe, Middle East ,and Africa (EMEA) region, though only placing second in total price value of deals closed, bought the most number of IT-BPO contracts for the first quarter of 2017 (1Q17). The Asia-Pacific (ASPAC) region purchased the least amount of BPO services.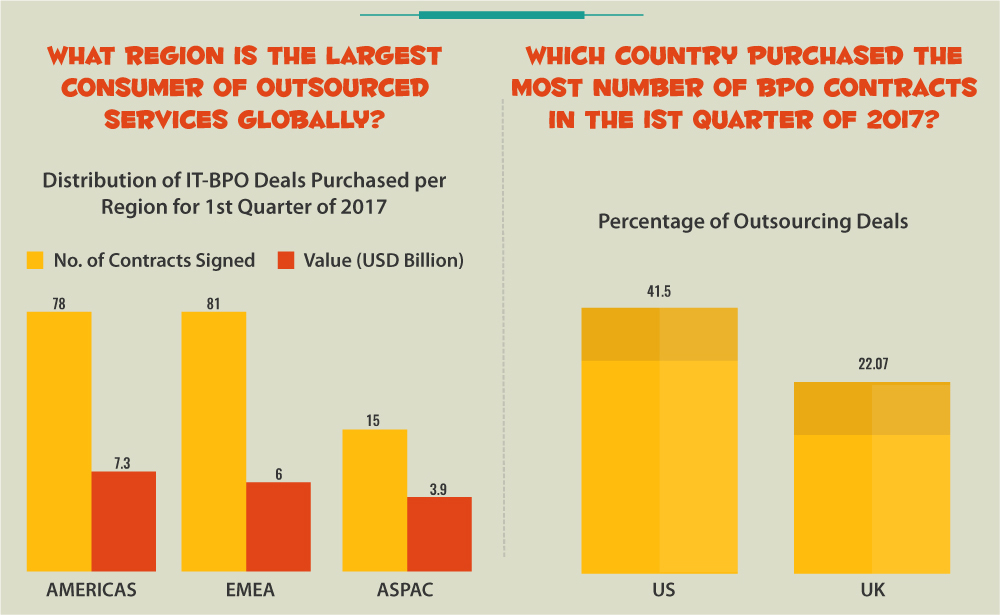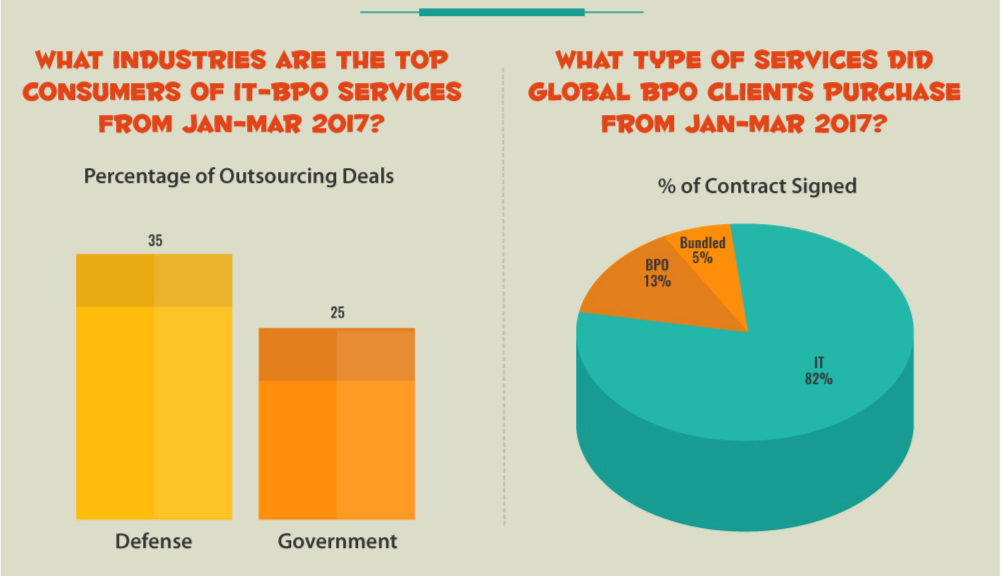 Key Economic Players Rely on BPO for Further Progress
The global market continues to put their faith in the BPO industry to support the growth of their businesses in 2017. You need to ask yourself this question: what can I learn from this behavior? If you want to stay on top of the race, you must consider what BPO services can do for you.
Where to Find Top BPO Providers
The top suppliers of the global BPO scene hail from Asia. International digital innovations firm, Tholons Inc., released a research ranking the world's top BPO providers with Tholons Services Globalization Index (TSGI) for 2017. Comparing from their data in 2016, India, China, and the Philippines still lead the BPO race worldwide.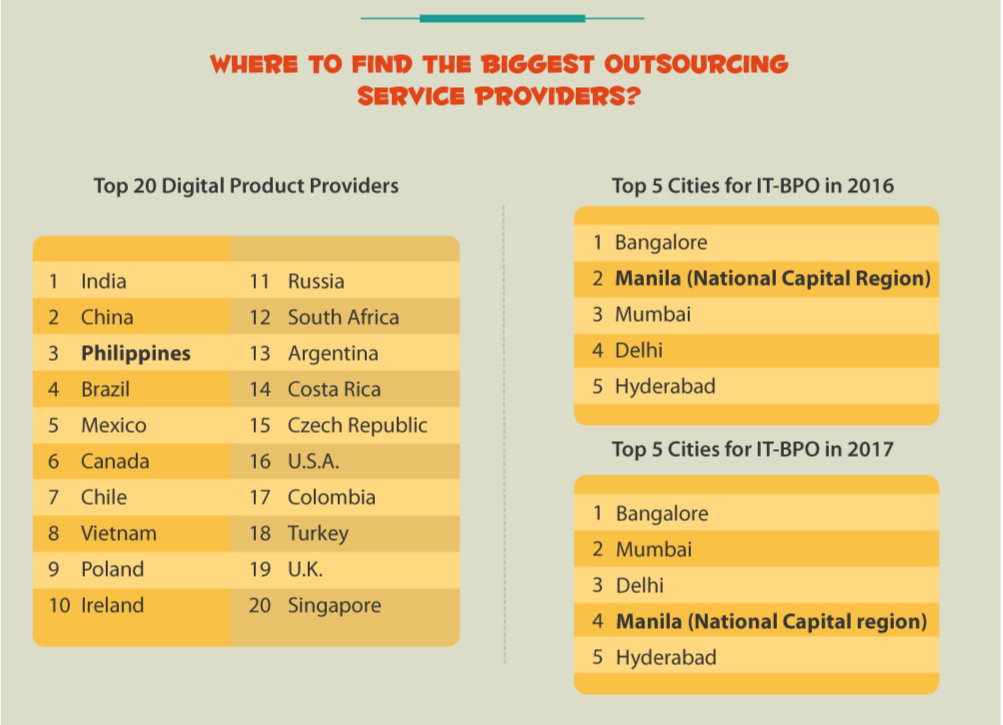 Even after it placed behind China in 2017, Philippines (PH) kept its control over its rivals as Manila held up its spot in the top five of TSGI's ranking of the best performing cities for 2016 and 2017.
Outsourcing is the Philippines' Forte
BPO companies in the Philippines are top economic players. Their earnings make up a huge chunk of the country's gross domestic product (GDP), next to overseas Filipino worker (OFW) remittances. PH profits from its vast and potent human resources by providing premier outsourcing services to the world.
ASEAN Briefing projects further progress in PH's BPO sector as they target 25.5 billion USD worth of earnings by the end of the year. The business media portal view BPO as a huge revenue magnet for PH, expecting BPO firms to provide jobs to 1.4 million more Filipinos by the end of 2017. In 2020, they foresee a minimum of 40 billion USD of income from the BPO sector alone, while also bringing in extra 2.5 million openings to Filipino workers.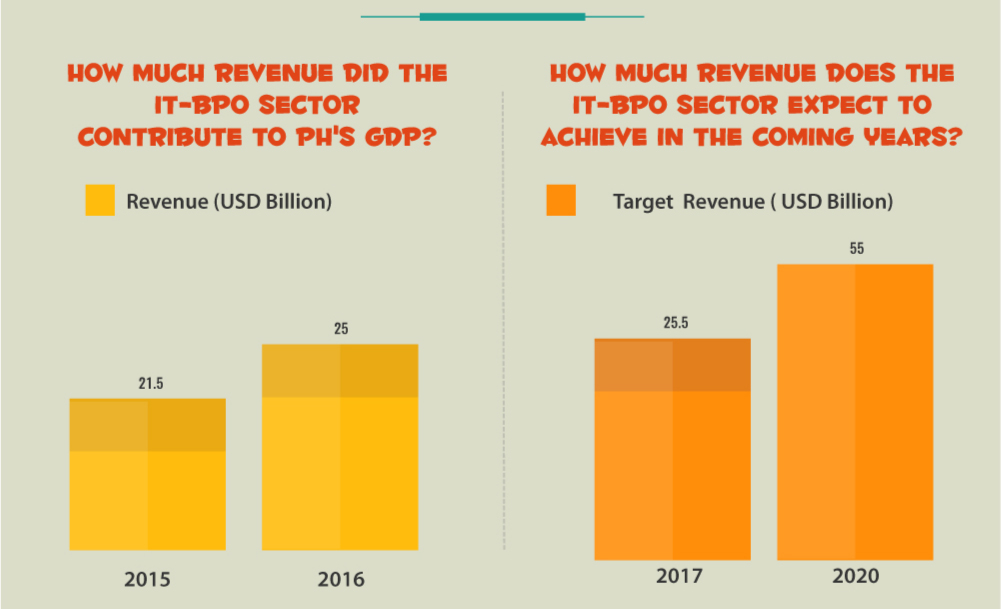 PH remains a top destination for topnotch third-party solutions, as global companies depend on Filipino BPO and Knowledge Process Outsourcing (KPO) services. The country led the race in voice solutions and second in non-voice BPO. Though its primary product is contact center management, experts look into PH's bright future in other high-end outsourcing needs. Multinational firms get their IT, design, and professional consultation needs from their PH suppliers.
Challenges in the Growth of BPO Industry in the Philippines
DTI values the industry as a major labor and profit driver, with BPO firms offering the most number of private sector jobs. The biggest threat to PH's robust BPO sector is the rise of artificial intelligence-based (AI) solutions to replace human process outsourcing.
Top employers adopted computer automation replacing call center agents and other back-office suppliers with robots to carry out same functions. CNN reported Department of Trade and Industry (DTI) secretary Ramon Lopez' request to Filipino BPO vendors and its support agencies to strengthen their hold in the market of exported services. Sec. Lopez wants firms and schools to work hard in training current BPO workers and the future professionals to give value-added BPO goods untapped by AI technology.
Overcoming Threats to PH's IT-BPO Empire
Top IT-BPO companies in the Philippines work to uphold their edge over competing vendors by stepping up their KPO game. These firms now focus on perfecting knowledge-based products, as response to the dangers brought by AI solutions. These matchless KPO services include digital marketing, research, web development, creative design, and professional consultancy among many others. The BPO industry in the Philippines stays dauntless despite the challenges from technology and other foreign contenders.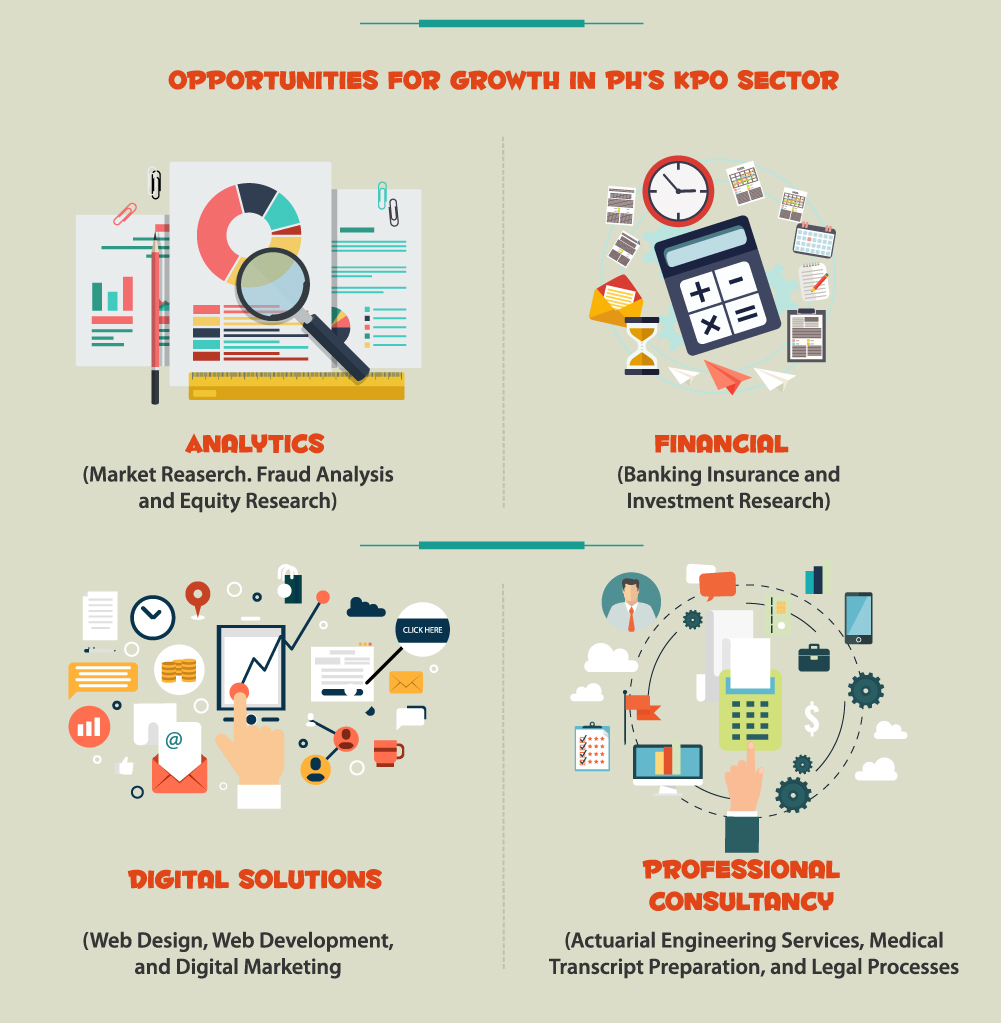 Click here to download a PDF version of this post:
The State of the Philippines' IT-BPO Sector: Q1 2017 Report
Sources:
cnnphilippines.com,
tholons.com,
bloomberg.com,
assets.kpmg.com,
businessmirror.com.ph,
aseanbriefing.com,
cnnphilippines.com,
visualhunt.com